Weird Tales — 2008 year in review
by Stephen H. Segal
Weird Tales might be the world's oldest speculative-fiction magazine, but here on the inside we feel like the youngest. We spent 2008, our 85th anniversary year, trying our damnedest to act as an ambassador for SF literature, reaching out to engage readers all across the diverse sub-circles of the modern geekosphere.
For starters, there was our big initiative to name "The 85 Weirdest Storytellers of the Past 85 Years." Our public call for input received more correspondence than any other project in the twenty years since Weird Tales's resurrection — and in the end, our readers and writers delivered an unprecedented portrait of the modern imagination, detailing the web of bizarre ideas and aesthetics that linked Philip K. Dick to Andy Warhol, Laurie Anderson to Madeleine L'Engle, and H.P. Lovecraft to Frida Kahlo to that German guy who founded the "Body Worlds" exhibit. We first "published" the 85 Weirdest story on 85 bright blue pages emblazoned across the walls of our anniversary suite party at Norwescon, where guests wandered from corner to corner reading the write-ups, drinking their Unrepentant Harlequins and Headless Thompson Gunners, and pausing to laugh when they saw Jim Henson linking David Bowie and Neil Gaiman on the headboard in the master bedroom.
Aside from those pages on the wall, an awful lot happened on the pages inside the magazine in 2008. We devoted a regular space to publishing chapter excerpts showcasing all sorts of SF-related books and publishers, from Stephen Hunt's alt-Victorian adventure The Court of the Air to Ekaterina Sedia's tragic fantasy The Alchemy of Stone to an amazing essay on resurrecting gholas from the BenBella anthology The Science of Dune. We published deep, provocative interviews with Hellboy creator Mike Mignola, urban fantasy phenom China Miéville, and legendary animated filmmaker Bill Plympton, among others. We hired popular blogger Amanda Gannon (that's Naamah-Darling to you LiveJournallers) as Weird Tales's first-ever arts & culture editor; in her new department, "The Bazaar," she's begun spotlighting weird fantasy-inspired artisans ranging from the steampunk taxidermist Jessica Joslin to the mythic maskmaker Andrea Harris. We sought out unique, world-quality creative nonfiction for our "Weirdism" department, and we launched Ira Marcks' indescribably odd pseudo-comics series "Harvey Pelican & Co."
Of course, the heart and soul of Weird Tales remains the tales themselves, and 2008 was quite a year for our stories. Fiction editor Ann VanderMeer could have sat back and enjoyed the accolades for acquiring an all-new Elric novella by Michael Moorcock, an original sword-and-sorcery battle by Norman Spinrad, an unforgettable dark-superhero story by Tim Pratt, the return to short fiction of Kathe Koja, two brilliantly disparate pieces by O. Henry Award winner Karen Heuler (a comedy with fish and an allegory with beetles), and an all-international issue with stories from Serbia, Spain, Israel, Singapore, the Netherlands, Slovakia, and the Philippines. But instead, Ann delighted in introducing readers to an onslaught of newer writers who are sure to become some of tomorrow's superstars. We saw the likes of Ramsey Shehadeh's post-apocalypic fable "Creature"; Chris Furst's twisted history "The Last Great Clown Hunt"; Micaela Morrissette's culinary hallucination "Wendigo"; Chiles Samaniego's jazz-club folktale "Time and the Orpheus"; Rachel Swirsky's passionate dream-scene "Detours on the Way to Nothing"; and Matthew Pridham's stunning first sale "Renovations," a haunted-house novelette told in the first person by the house itself.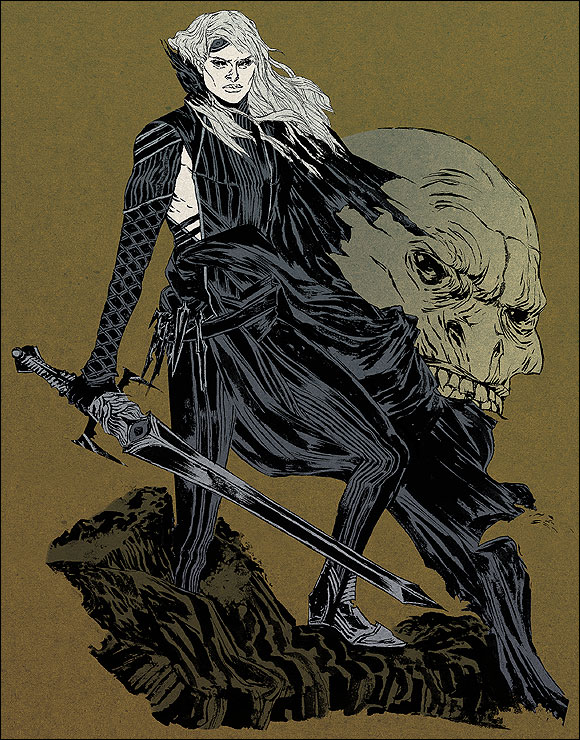 All these stories had to be illustrated, naturally, and Weird Tales was thrilled to introduce a wave of fantastic young artists to the American SF scene in 2008. Issue #348 gave us the unsettlingly seductive fish-women of Finnish artist Saara Salmi, while #350's straightjacketed jester marked the cover debut of Jason "Stuntkid" Levesque. Our anniversary issue saw two memorably unique interpretations of Elric of Melniboné: the raw, punk-rock cover painting by graphic designer Newel Anderson, and the elegant black-and-white linework of up-and-coming comic-book costume designer Ming Doyle. Classically inspired dark-fantasy illustrators Daniele Serra and Vance Kelly offered up lush, horrific phantasmagoria, while edgy pen-mistresses Star St. Germain and Molly Crabapple gave us werewolves in sun-dresses and rock stars in goblin suits. Meanwhile, online at WeirdTalesMagazine.com, we dove headfirst into what we're pretty sure is SF publishing's very first year-long, single-artist daily painting series: "365 Days of Blasphemous Horrors," mixed-media artist Steven Archer's quest to create an original Lovecraftian work every day from one Balticon to the next.
Speaking of our website, WeirdTalesMagazine.com was also the home of 2008's big Spam Fiction Contest, in which we invited all comers to write 500-word flash fictions inspired by the spam headlines in their email inboxes. It was a tough contest to judge: the broad, populist nature of the competition meant that it perpetuated through the blogosphere fast and furious, pinging some mainstream news outlets along the way, and in a single week we received some 175 entries from around the world, fueled by spam titles ranging from the innocuous "Angelina Jolie splits from Brad Pitt" to the ineffable "Parsimonious Wang." But first-place winner Richard Howard of Dublin did it with panache, celebrating the success of his piece "Let Yourself Look Spiny" by turning right around and selling us another, full-length story to appear in a future print issue.
Other online initiatives in 2008 included the first installment of our all-new YouTube series, "One-Minute Weird Tales" — a new format for flash-fiction delivery that you'll be seeing a lot more of soon — and the move to begin publishing inexpensive e-book editions of every new issue at Sony's eBook Store.
Weird Tales also cultivated a presence in the theatrical world in 2008, officially sponsoring several original works of stagecraft. In Chicago, we sent columnist Kenneth Hite to Wildclaw Theatre's opening-night gala to introduce their new adaptation of Lovecraft's "Dreams in the Witch House. During the Toronto Fringe Festival we showcased the Bradbury-inspired drama "Without Whom," and at Dragon*Con we gave free magazines and books to the ballroom full of kids participating in the live-action roleplaying narrative "Echoes of Devil's Reef." Oh, and while it may not exactly be dignified theatre, the Arizona Comic Con's inaugural Miss Zombie Beauty Pageant certainly was a memorable live performance, and the winning undead princess took home a specially commissioned, one-of-a-kind edition of Weird Tales stories titled "Zombie Love," lovingly and dementedly hand-crafted by book artist Patricia Lee.
Last but most certainly not least, we got out there to all sorts of events on our 85th Anniversary Tour and we met you. A fantastic celebration at Norwescon featuring contributing authors Jay Lake, Lisa Mantchev, Ken Scholes, and Cat Rambo. A full Weird Tales panel at the huge New York Comic Con. A VanderMeerian duo at I-Con with Norman Spinrad joining the fun. A Weird Tales lecture at the Library of Congress, starring editor emeritus George Scithers. A weekend full of spectacular fan interaction at Dragon*Con, ranging from the multimedia Weird Tales presentation to artist Steven Archer's performance with his rock band Ego Likeness to my own turn on the overflowingly packed steampunk panel. An overseas trip to Prague, where Ann was a special guest at the Parcon festival. A standing-room-only Weird Tales group reading at New York's infamous KGB Bar, featuring the inimitable Jeffrey Ford. And an incredible Worldcon in Denver, where WT contributor Carrie Vaughn headlined a Weird Tales reception full of great art, stimulating conversation, and lycanthrope-inspired Moon Pies.
Readers, writers, artists, friends — we thank you all for making 2008 the most exciting anniversary celebration Weird Tales has had since its 65th in 1988, when it returned from the dead. If you'll forgive me for badly mixing my SF metaphors, we think this is one techno-magically revivified zombie beast of a magazine that's still got a whole 'nother cycle of regenerations left to go.
* * *
Stephen H. Segal is the editorial & creative director of Weird Tales.
Tags: anticipation, art, awards, bizarre, comics, cthulhu, digital, fan, fandom, fantasy, fen, fic, Fiction, freak, goth, gothic, horror, hugo, hugo awards, hugos, Interviews + Features, lovecraft, montreal, nominate, nomination, poe, recommend, sci-fi, science, science fiction, scifi, sf, spec, speculative, surreal, tales, weird, Weird Tales, worldcon